Struggling to find a driving instructor then why not book a full day's driver training at Dunsfold Park. Call Jon on 07769900390 for further details.
All my customers are given free online theory software. Click on the THEORY TEST PRO banner below and register your name.
Remember we also offer driving lessons for 10 to 16 year olds. Just click on the Under 17's Driver Training link
Jon Reynolds Winchester Driving Instructor Profile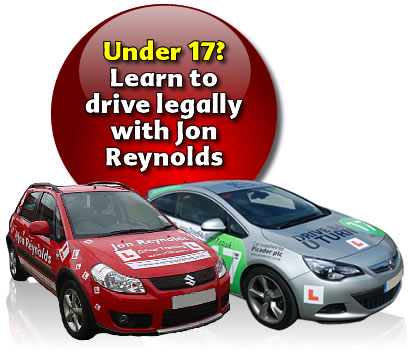 Probably the most common question I´m asked as a Driving Instructor is, how many lessons is my son/daughter likely to need in order to pass their test?
The DSA says that on average pupils take 45 hours of professional training combined with 22 hours of private practice. However, everyone learns at a different rate.
I would like to introduce all prospective pupils to my driver training ethos and give some insight into my teaching style.
All driving instructors are subject to a regular test of continued fitness and ability to teach. The Driving Standards Agency grades each individual instructor on a scale of A (high standard), B (satisfactory), and Fail (unsatisfactory). I am a grade A instructor.
Learning to drive is a life skill and I am committed to educating my pupils on how to be ´safe for life´. For this reason I will not allow my pupils to take their driving test until I am completely confident in their ability to be a SAFE driver and I expect pupils and their parents to trust my judgement on this.
Statistics show that 1 in 5 newly qualified drivers will be involved in an accident during their first year of driving. I believe that experience is the key to reducing this alarming statistic as the more driving experience a novice can gain, the more adept they will be at dealing with high risk situations. As a result where possible I encourage all my pupils to do significant amounts of private practice and I encourage Parents/Accompanying drivers to sit in on some of our lessons so as to gain an understanding of what we are trying to achieve. I can also provide private practice plans which I believe really helps my pupils to eliminate any weaknesses in their general driving.
Whilst I am fully aware of the financial implications of learning to drive, it is very likely that pupils who do not take private practice will require many more lessons in order to be thoroughly prepared for their test.
From experience I know that pupils who follow a regular lesson plan will reach test standard more quickly than those who take a break from lessons and return to them at a later date. For this reason, before learning to drive, pupils should consider other commitments i.e. exams, extended holidays, etc.
When a pupil is nearing test standard I perform mock tests thus placing the pupils in an exam situation and taking the opportunity to cover many types of road conditions. During this time I pay special attention to any weaknesses and focus on the most common driver faults which I know from past experience can cost people their test and more importantly lead to potential accidents.
In order to help pupils and their families to reduce the cost of driving lessons I try to offer compromises. For example I offer the opportunity for pupils to double up with one of my other pupils (with their permission) by allowing them to sit in the back of each other´s lessons and learn from each other´s experiences. I have trialled this on several occasions and it has proved very successful. I also have a password protected section on my website which contains demonstration videos of all the manoeuvres that pupils can study in their own time which may help to speed up the learning process.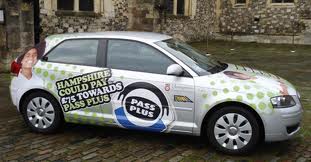 I am registered with the Hampshire County Council Pass Plus scheme which enables 17 to 24 year olds living in the Winchester area to take the Pass Plus course at a significantly reduced rate. Pass Plus offers extra driving experience and covers skills such as night driving and motorway driving.
I pride myself on the high standard of the pupils I enter for test and my main priority is to ensure that all my pupils are not only capable of passing their practical test but are also experienced enough not to endanger their own life and the lives of others.